Best PUBG Like Games for Android– It is undeniable that currently the Battle Royale game is very loved by gamers. One of the highlights right now is PUBG Mobile.
Compared to similar Battle Royale games, PUBG Mobile is the most played because it has good overall aspects, starting in terms of gameplay, features, and so on.
Read more:
But unfortunately, not everyone can play PUBG for some reason, the most logical reason is a device that doesn't really support it. Want to know what Android games are like PUBG today? Let's check it out!
Top 11 Best PUBG Like Games for Android: Best In 2022
1. Rules of Survival
Officially launched on November 14, 2017, this survival-type game has succeeded in capturing the attention of gamers thanks to its very exciting gameplay.
With a very large number of players, you certainly don't have to wait long when looking for a game. At the beginning of the game, you will be placed on an island where there will be various types of weapons, ranging from common weapons to rare weapons.
In  ROS, players will be assisted to get shooting targets easily or what is commonly called Auto Aim.
To be able to overthrow the enemy is certainly not as difficult as the PUBG game, guys. In terms of the animation effect itself, ROS looks delicious and is so pleasing to the eye. So far, ROS has been installed more than 10 million times.
2. Cyber ​​Hunter
To provide a different sensation, Cyber ​​Hunter comes with new innovations that make this Battle Royale game look fresh and attractive.
In playing this Cyber ​​Hunter game, you will later fight in a battle arena, either alone, in pairs, or as four. What makes Cyber ​​Hunter different and looks fresh is the skill feature it implements.
Where later you can build buildings according to the skills they take. Starting from making trees for shelter, to Healing stations that can be used to give blood to friends or teammates.
3. Garena Free Fire
The next PUBG-like game that is quite popular with gamers is Garena Free Fire. It is not without reason that Free Fire is so loved, considering that this battle royale game made by Garena is not too burdensome for smartphones, so even those of you who have standard smartphone specifications can play it.
The most fun thing about this game itself is the character presentation, skins, and various cosmetic accessories. With a wide selection of characters complete with cool accessories, it will certainly make you feel at home playing this game for a long time.
Unlike the usual Battle Royale games, which incidentally bring together 100 players in one match. Free Fire will only collect 50 players in matchmaking so that it can shorten the time.
4. Hopeless Land: Fight for Survival
Inspired by the PUBG Battle Royale game and Rules of Survival, this game titled  Hopeless Land is packed with a fairly complete weapon system, where later you can also find types of weapons such as Pistol, Shotgun, SMG, Assault Rifle, and Sniper.
Then for other complimentary items, available Bomb, Med Kit, and war equipment like similar games. If the game made by  Tencent Games has graphics that are close to real, the visual presentation in this game has decreased a lot, but it's still fairly pleasing to the eye.
For the number of players in one match, it can accommodate up to 120 players. Spelled out more than the Battle Royale game which is currently popular, of course.
5. Knives Out
NetEase seems to really know what gamers want. Even though it is a PUBG clone game,  Knives Out reaped quite a lot of profits.
The analytic company Sensor Tower said that  Knives Out earned around USD 465 million or the equivalent of Rp. 6.5 trillion worldwide. This amount exceeds Fortnite's profit which is only USD 455 million or around Rp. 6.4 trillion on mobile devices.
Regardless of the best-selling game, of course, the developer is captivating to treat the game aspects well, starting from the gameplay,  visuals, controls that are not that difficult, and indulgent features. Overall, this PUBG-like game is worth playing.
6. US Army Commando Battleground
Just like the PUBG game, in this game, you also have to have a defense and attack strategy to survive and win every match.
In this game, you are positioned as a soldier who leads the war, according to the game title which carries the word "Commando" which means leader.
Although the war strategy is the same as most Battleground games, this game has a different plot and war equipment, considering that the developer brings the concept of World War II.
7. Vast Survival
From the treats of the gameplay, Vast Survival does look so unique and interesting compared to a survival game that also relies on battle instincts. The reason is, the enemies in this game are not only players, but also animals, disease, and weather.
It sounds really scary, but of course, it will be very exciting for you to play, considering that later you will survive with 26 players in one match. With an open-world map that reaches 100 km, you can certainly explore the visual beauty of this game.
8. Last Battleground: Survival
For those of you who have a device with standard specifications, Last Battleground Survival is still okay to play, guys.
Like similar games, Last Battleground Survival has interesting gameplay. The reason is, you must be the last survivor of the 32 people gathered on one big island.
Even though the graphics are not as nice as PUBG, the scenery such as school buildings, planes, warehouses, and other buildings is still within good limits for you to see, guys. The graphics, which are not so realistic, make potato cellphones able to play Last Battleground Survival.
9. Grand Battle Royale: Pixel War
Overall, many gamers say that Grand Battle Royale Pixel War is similar to Fortnite. Yep, the colored graphic elements are one of the reasons for the similarity.
Despite these similarities, Pixel War is still unique to play. Why is that, of course, because the characters look cute like Minecraft? Of course, the sensation of playing the Battle Royale game will be fairly interesting from similar games.
Interestingly, Pixel War has a number of game modes that you can play later, starting from Gun games, Team Play, Sniper Arena, Infection, Hide And Seek, and of course Battle Royale.
10. Dome of Doom
In terms of war strategy, the Dome of Doom is actually similar to the PUBG game. This is where at the beginning of the game you will also jump from the parachute to the place you want to pick up the weapons that are scattered throughout the map.
It's just that this game is packed with much lighter gameplay and visuals, so even low-spec devices can play it. Even so, the excitement of fighting is still quite okay,  you know.
11. Buller Strike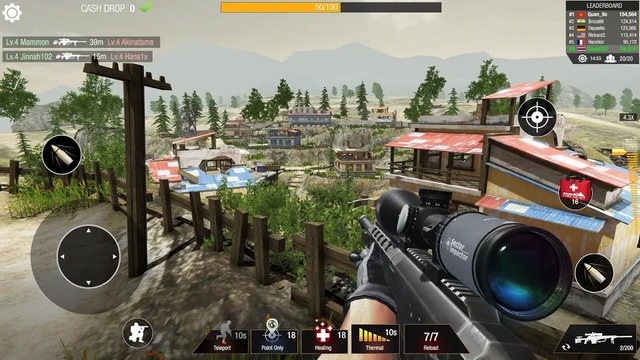 Bullet Strike is another fast-paced PUBG Mobile replica where you'll be dropped on a deserted island with up to twenty players and you'll need to survive and kill the others. the sport features pretty good graphics, good controls, and a spread of deadly weapons. Overall, it's a very good option for those that want to enjoy the fast-paced battle royale gaming experience.
Read more:
Closing
Well, that's 11 recommendations for PUBG-like games that you deserve to play, guys. If you have other interesting and exciting PUBG-like games, don't hesitate to share via the comments column!
Don't forget to bookmark and always visit every day Techgarv.com because you can find here the latest Tech Computer Android games How-to Guide Tips&Tricks Software Review etc, Which we update every day.